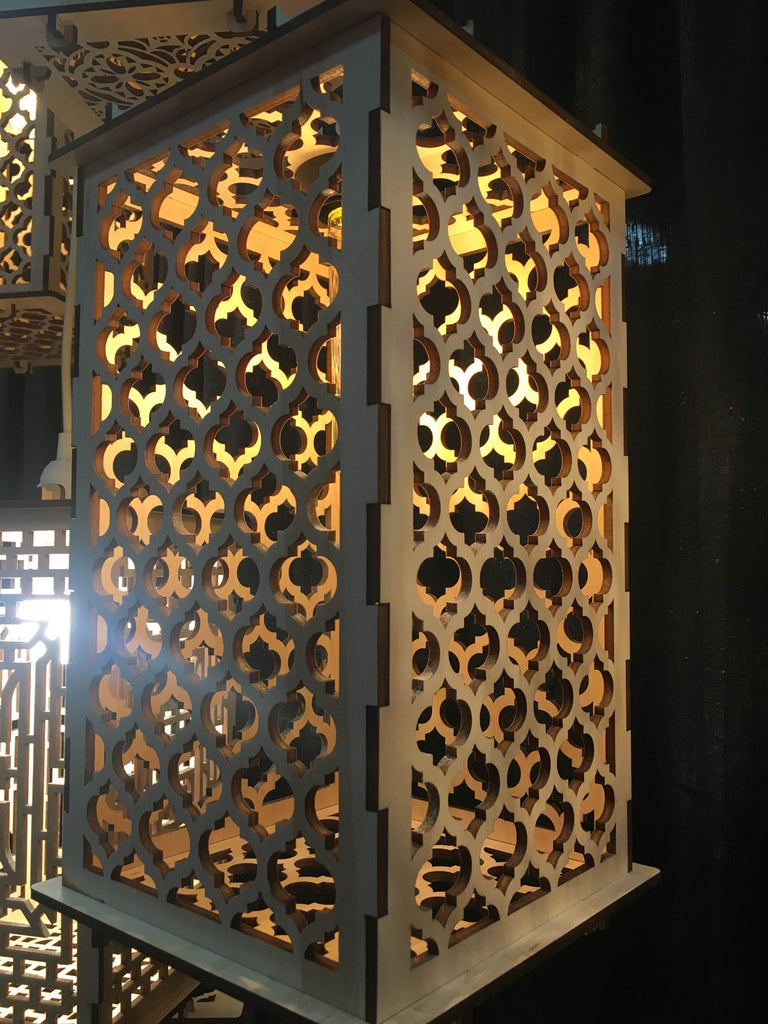 Moroccan Trellis Quatrefoil - Lantern
The Moroccan Q' design is both stylish and sleek, transitional and contemporary, clever and soothing.  It's popular ornamental design has four lobes resembling a four leaf clover. The word quatrefoil derives from latin for "four leaves". It's geometrical design conveys feelings of good luck and fortune. Ancient cultural meanings include, Celtic - the wheel of being, Native American - the four ends of the earth (north, south, east, west ) Christianity ( 4 evangelists of the bible ( Matthew, Mark, Luke, John ). Today, it symbolizes harmony, symmetry and proportion, or good luck and fortune.
Can be used as a hanging light or a table lamp
Includes
Lighting fixture and Laser Cut Lantern
Options:
Comes as both a
 hanging 
lantern 
or a 
t
able 
l
amp. 
Additionally, hanging
lanterns can be configured to 
have 
either 
the decorative bottom 
or 
open bottom. 

Assembly:
This item ships flat, Assembly Required
Material:
Birch Plywood
Finishing:
unfinished
Light:
  Light Fixture included, LED Light bulbs recommended
Size:
 6x6x12 inches
---
---
More from this collection